So you're hoping to buy or sell a home and want to know what the housing market forecast is like—especially after the coronavirus outbreak. Well, as you might've guessed, behavior change like the social distancing effort is causing some market delay. But it's hard to predict how heavily the virus will impact real estate in 2020.
What we do know is—before public health officials stuck a six-foot gap between buyers and sellers—home sales were at their highest in over a decade!And experts believe home prices will continue to increase, just at a slower pace than we've seen in the past few years.
Checking the housing market forecast can give you an idea of what to expect if you buy or sell a house this year. But don't let it dictate your housing decisions—only your personal situation and finances should do that. With that said, let's take a closer look at how the market is doing.
Coronavirus Impact on Housing Markets
The housing market looked good in February, but when public health officials sounded the alarms about the coronavirus, more buyers and sellers started taking a "wait and see" approach. Does that mean the entire housing market is as frozen as Elsa's ice palace? Well, let's check the stats.
Impact on buyers: In early March, home shoppers who felt optimistic about buying a home due to the coronavirus dropped from 75% to 43%—yet, interestingly, those who felt the virus had no impact on their plans went up from 18% to 47%.1 But by mid-March, nearly half (48%) of real estate agents said buyer interest decreased.2
Impact on sellers: The coronavirus has had little impact on seller behavior as of mid-March. But still, the amount of agents who said there was no change in the number of homes on the market dropped from 87% to 69%. And those who said they've had sellers actually remove their homes from the market went up from 3% to 16%.3
In a nutshell: So, for those wanting to buy or sell a home in 2020, is all hope lost? No. In fact, National Association of Realtors (NAR) Chief Economist Lawrence Yun calls the coronavirus's impact on the real estate market a "temporary softening"—believing a "strong rebound" will likely follow once this virus goes bye-bye.4 Find expert agents to help you sell your home.
Now let's see how the market was doing back when toilet paper was fully stocked.
2020: Home Sales Are High but Supply Is Low
Ready for some good news? In February 2020, existing-home sales were the strongest they've been since 2007—blazing a trail of over five million sales across the country!5 Real estate gurus think the growth is due to the super low mortgage rates and built up housing demand.
For the math nerds who want to see what home sales are like in their specific area, here's how those numbers beak down across the nation:6
| | | | |
| --- | --- | --- | --- |
| Region | February 2020 Home Sales | Versus Last Month | Versus Last Year |
| U.S. | 5,770,000 | +6.5% | +7.2% |
| Northeast | 700,000 | -4.1% | +2.9% |
| Midwest | 1,290,000 | +0.8% | +4% |
| South | 2,520,000 | +7.2% | +8.2% |
| West | 1,260,000 | +18.9% | +11.5% |
So, what exactly can we take away from February's market activity? First, let's pretend the unpredictable impact of the coronavirus isn't a factor. Now let's hone in on buyer and seller traffic across the nation to see what you're up against as a potential buyer or seller this year.
In February, NAR asked real estate agents across the country to describe their market as weak, stable or strong according to how many buyers were looking for homes and how many sellers were selling their homes. Check out the first map to see how hot the buyer traffic was in your neck of the woods:7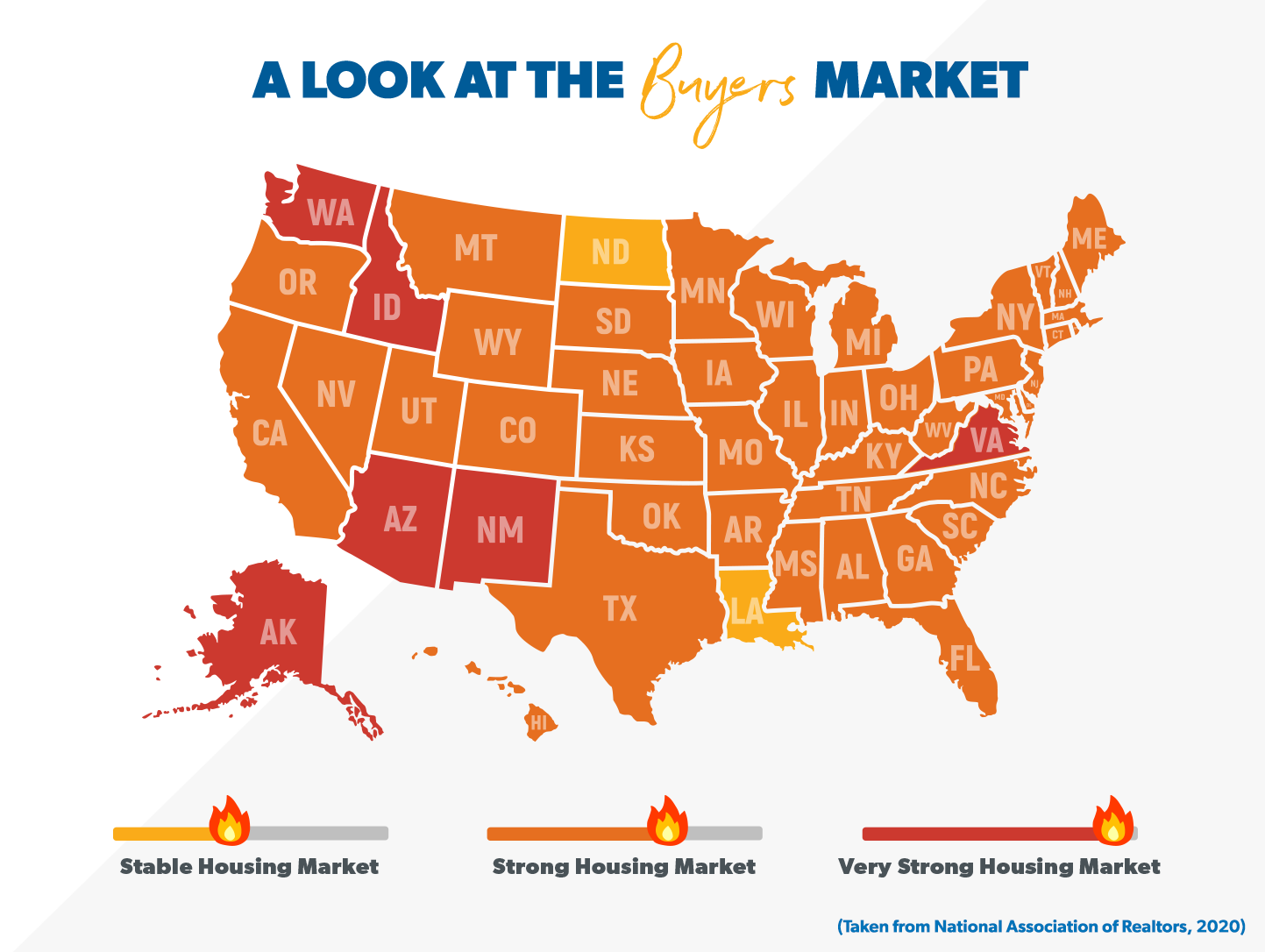 As you can see, buyer traffic is piping hot in six states and pretty strong throughout most of the country—a great sign for sellers.
On the other hand, the amount of homes listed for sale are down nearly 10% compared to last year.8 The next map shows how the majority of markets are looking somewhat slow when it comes to seller traffic—so buyers will have to work a little harder to find their dream home.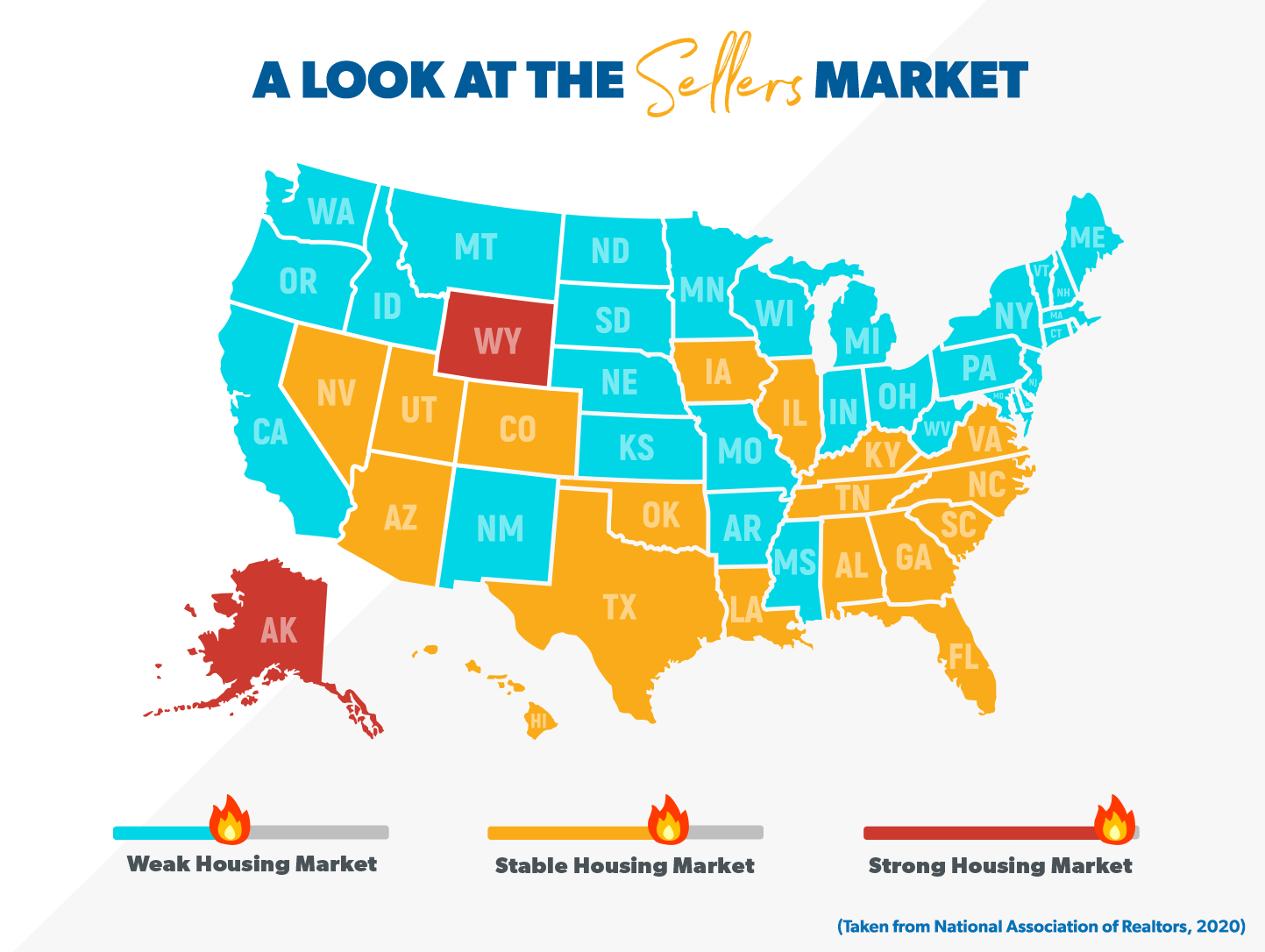 How Fast Are Homes Flying off the Market in 2020?
How long does it take to find the right buyer for your home after you put it up for sale? In February 2020, houses were typically on the market for 36 days—meaning homes were plucked off the market a week faster than the 44-day average in February 2019.9
Here's a state-by-state breakdown so you can see how many days the typical home stayed on the market in your area.10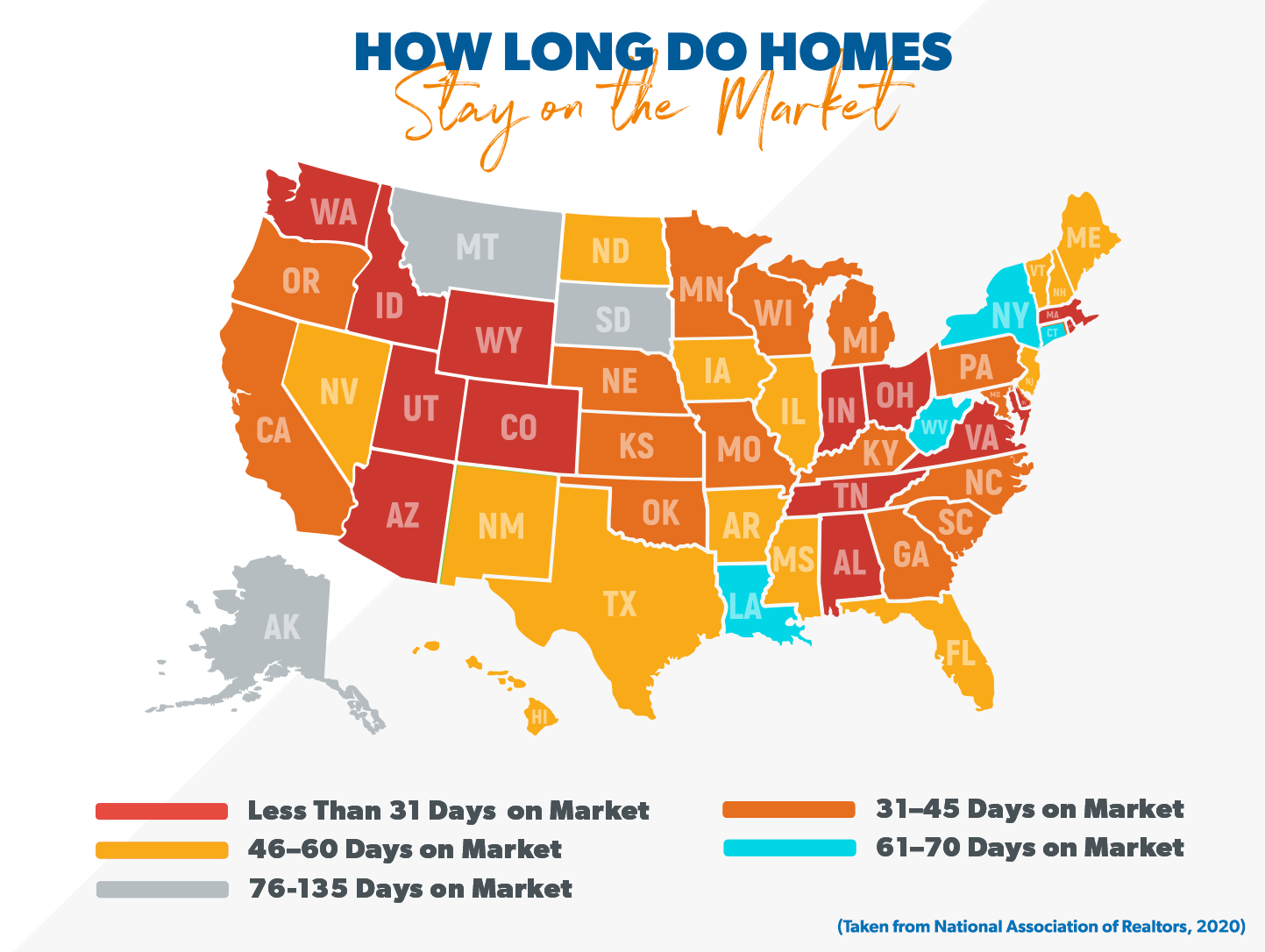 How Much Are House Prices Growing in 2020?
Now let's see how much money houses are selling for. In February 2020, the median price for an existing house was $270,100—that's a bump of 8% compared to last year.11 Check out the table below to see what home prices are selling for in your area.
| | | |
| --- | --- | --- |
| Region | Median Price February 2020 | Versus Last Year |
| U.S. | $270,100 | 8% |
| Northeast | $295,400 | 8.2% |
| Midwest | $203,700 | 7.9% |
| South | $238,000 | 8.2% |
| West | $410,100 | 8.1% |
Since the coronavirus is causing some sellers to take their homes off the market—during what was already considered a housing shortage—Yun doesn't expect home prices to drop in 2020.12 Fannie Mae agrees, forecasting a median existing-home price of $283,000 in 2020—an overall growth of 4% compared to 2019.13
What Does This Mean for Buyers in 2020?
Okay, so far it looks like you'll need to bring your A game if you want to buy the home of your dreams this year. With more buyers than sellers, you'll probably be up against some heavy competition. But don't worry—there's a bright side for buyers too.
There's a low likelihood that you'll be priced out of the market since home prices aren't shooting up too fast. And, if you're getting a mortgage, interest rates are super low right now—coming in at 2.97% in February for a 15-year fixed-rate mortgage!14 A low rate means a lower monthly payment and less of your money going toward interest over the life of the loan. Woohoo!
What Does This Mean for Sellers in 2020?
Without being able to predict what's to come of the coronavirus, sellers out there can feel pretty good about 2020. There are still plenty of buyers in the market and not as many sellers to compete with you. If you work with an experienced agent, you'll be able to set the best home price and find the right buyer. You should have no problem selling your house this year.
5